Two years ago, I got a message from a fan inviting me to play at his festival in Denmark…
P.S. the answer was "YES"
If it wasn't already cool enough that I got invited to DENMARK, my favorite people were also willing to meet me half way across the world: Timothy Porter, Joe Riedel & Gail Saunders (World's Best Mama™)
Mom and I were the first of our crew to arrive in Denmark! It's funny looking back on us frantically asking strangers which was considered the train and which was considered the metro. PSA: Don't get on the wrong one or it'll take you to Sweden!
We must have stayed up for almost 30 hours straight (neither of us got very good sleep on the flights to Copenhagen). By the time we got to Vesterbro, we were ready to crash. Instead, we still had to walk four or five blocks to our Airbnb. This is no small feat when you're carrying a guitar, two backpacks and two suitcases all filled to the brim with any change of clothes you imagined you might need!
One of the quirky things about the architecture in Copenhagen is of course how old the buildings are. Because of that, many apartment buildings are not exactly wheelchair accessible! All this to say, when we finally arrived at our home away from home we quickly realized we would be getting a workout since our room was at the top of five flights of stairs… We slept pretty well that night. Even with the jetlag!
The cuteness was definitely worth the effort of getting there!
During our stay at the coziest Airbnb on earth, mom and I got the chance to explore Copenhagen's assorted shops. We really enjoyed the little boutique grocery store only a block away and had our first Danish breakfast at a cafe called "Barbar Bar". No, that's not a typo!
Thanks to my friend Benjamin Aggerbæk, I was invited to play an all women's showcase for Copenhagen Songwriters Festival & even do a radio spot with Radio24syv!
We were sad to leave Copenhagen on Thursday, but so happy to finally meet the couple who made this trip happen: Thomas & Gitte!
Remember the fan who invited me to play at his festival almost 2 years ago? That was Thomas. Little did I know I had just met two of the sweetest people on earth!
A few facts about Thomas & Gitte:
1) They are school teachers
2) They are talented musicians, but they seem to be good at just about everything. You'll see what I mean if you keep reading…
3) Every year, they host a festival on their property called "Musik Til Roen" [Enter: Yours Truly]
4) They are proud parents of 3 kids, 1 dog, 4 horses, 9 sheep, and a few birds.
5) Thomas makes beer. It also happens to be my favorite beer. I'm more than a little bit sad that I can't buy it in the states!
6) And most importantly, they are the best friends a person could ask for.
When Gitte heard I had agreed to play at Musik Til Roen, she invited me to teach a songwriting workshop at Nakskov Gymnasium!
P.S. Did you know that Danish people call it a "gymnasium" instead of a "high school"?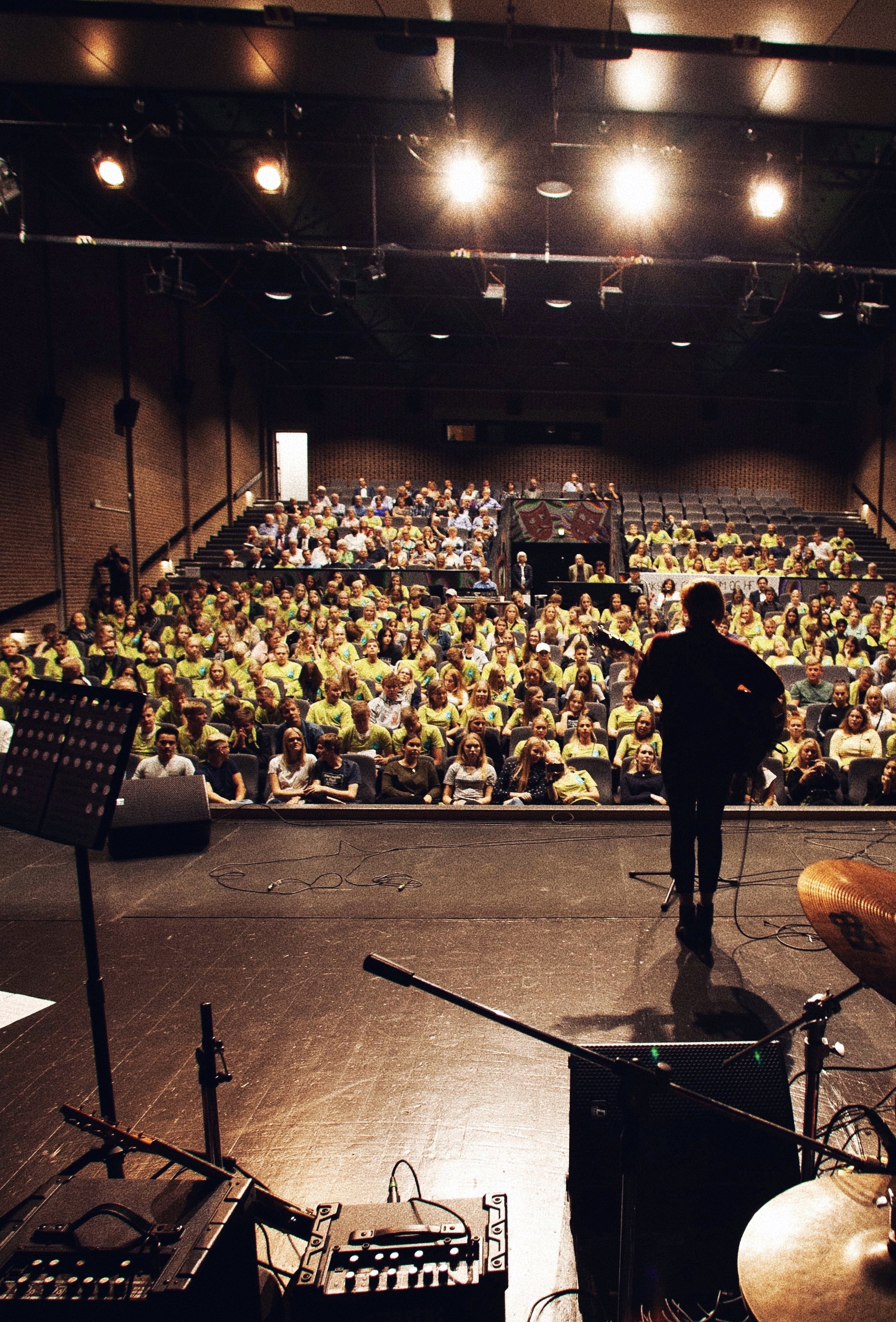 The day after we drove into Lolland was the 100 year anniversary of the school that Gitte teaches at. They were kind enough to let me play for their assembly before teaching a songwriting workshop the following week!
photo credit: timothy porter
If you're wondering how to pronounce "Musik Til Roen", I'm not the one to help! To this day I can't say it right. The closest English translation is "Music to the Beat", but there's a lot more packed in the word "Roen". To set up the meaning of this word correctly, here's a little context:
Lolland, Denmark is known for it's farmlands and particularly it's sugarbeets. Since the festival is held in Lolland, it's a bit of a play on words - Music to the beet/beat. But from what Thomas told me, it is also a sort of slang term for "mind". Google Translate says that "roen" means "calm" in english. So it could also mean something to the effect of "music that's calming to your mind".
Remember that beer I told you about? Thomas and his friends brew beer specifically for Musik Til Roen every year. The festival is the only place you can get it, so they also have an auction between performances. Tim bid on a few things and won 3 jars of honey (made by Britt Larson), 3 bottles of red wine and a 6 pack of Thomases "Lam I Roen" beer; we traded a couple with the guy who got the "F#-Let" beer.
I should also mention that the F#-Let is hands down the best beer I've ever had. After we downed a glass of it, mom and I found out that it has 9.0% alcohol content. Yikes! Good thing I had a few hours before my set!
As you can see in the photos, they also have a huge pig roast every year along with a potluck. Tim got some amazing drone footage of all this that can better explain how lovely an atmosphere this is.
The best thing about this festival is the community of people who attend. Everyone was so open and kind to us. The show itself was probably the most intimate and attentive of my career so far and that's all that an artist can ask for. Perhaps the biggest highlight was everyone singing along to my cover of "You Got a Friend" - a sentiment that is all too important in the world community today.
If you need more evidence of how amazing Thomas & Gitte's friends are, you should meet Søren Larsen. Søren pulled up already playing one of my youtube videos on his phone. When he and Tim got to talking, he mentioned his sister who manages the phonograph museum in Paris! He asked if I would be interested in playing there. Of course I said YES. In less than five minutes, Søren had his sister on FaceTime and introduced us! There are few things more encouraging than a person you believes in you that much. Hopefully more details to come… :)
Meet Martin & Karen, who invited us over for lunch after less than an hour of knowing us! Yeah…open and kind, to say the least. This generous couple have an amazing house overlooking the famous Vordingborg Castle Ruins. Martin even took his time to give us a history of the place.
Did you know that Vordingborg used to be the capitol of Denmark waaaay back in the day? The house Martin & Karen just bought was originally built for the Duke's wife, who could no longer live in his house after his passing. She lived out the rest of her days there and is now buried in the cemetery across the way.
P.S. cemeteries in Denmark are basically like botanical gardens in the US. They are kept up so well, I wouldn't mind having a view of it either ;).
Adventures in Trying Danish Foods!
No, I'm not smoking a pipe in the picture on the left. Definitely thought this danish licorice was a pipe when we first walked in! Even though I'm not a fan of your run-of-the-mill halloween licorice candy, this was quite different and not too sweet.
Apparently, Denmark is well-known for their open face sandwiches on rye bread! We LOVE this bread and found ourselves running to the store for a new loaf on a regular basis. The second and third picture are two traditional Danish sandwiches. The second picture is canned herring in a curry sauce with sliced apples, a boiled egg, and raw onion. The third picture is mackerel in a tomato sauce - both on rye. If you like fish, these sandwiches are for you!
I was a little too excited that I happened to be wearing the only t-shirt I own with sailboat graphics on the same day that we got to see the marina in Vordingborg! You can see this marina from the Vordingborg castle ruins, and showed in the second photo. Unfortunately, the only fully preserved part of the castle is called "goose tower", it is the first historically protected monument in Denmark. In the third picture, you can see the new patio that Martin and his dad just built which has a lovely view of the castle, the cemetery and the marina!
Helle & Michael
Can you believe we got not just one, but TWO invitations to people's homes after Musik Til Roen! A couple days after our lunch with Martin & Karen, Helle sent me a Facebook message inviting me over for their home made apple cake! Their residence was also charming with an interesting history.
Helle & Michael's house was a school now converted into a little neighborhood. This picture shows the outside of what used to be the classroom and gymnasium! These days, people rent parts of it for apartment living. The building where Helle & Michael live is where the teacher and his family used to live!
We were happy to catch the last hour of daylight in time to see how beautiful their yard is at twilight. Michael also showed us one interesting way to pass the time out there:
Ladies & Gentlemen, that is my mom shooting an orange out of a home made cannon. I know… I wasn't expecting that either! We each got a turn, and I'm proud to say that mine went the farthest :)
After this, we went inside for some apple cake (made with apples from their back yard), hot tea, grapes and other snacks. We talked a bit about the differences between the US and Denmark, which always makes me feel like I'm in an alternate universe. Tim and Michael seemed to be in their own little world talking about their shared interest in photography. Michael is a professional pilot, and takes aerial photos as a hobby!
Here's a photo of Helle being patient with us as we tried our best to pronounce letters the same way Danish people do. Even though we have (almost) the same alphabet, the sounds we make with it are deceptively different. Thanks for trying, Helle!
Towards the end of our get together, Helle and Michael gave us a tour of the old school house and even left us with some apple cider, again made with the apples from their yard! We all stood in their driveway and marvelled at how clear the stars were as we said our goodbyes. We Americans have done our best to entice all of our new Danish friends into coming to the US for a visit!
Songwriting Workshops @ Nakskov
After our day in Vordingborg, Joe and I got to teach some high school kids about our favorite thing: writing songs! Our goal for these workshops was to teach songwriting in many different contexts. We focused a lot on how to use different "tools" (i.e. guitar, piano and even your iPhone) to create something new and different.
I'm willing to bet this was the first class you've ever heard the instructor say "before we go any further, I'm gunna need you to take your cell phones out!".
We were very lucky to have Tim there as our resident photographer / Apple expert. He showed all of us how to turn an iPhone into a midi keyboard! We also taught the kids the difference between audio and midi, how to construct a melody and tips about leading your audience into the next section of a song. We did some lyric writing exercises too, and by the end of the workshop most of the kids had built a whole track. Some even finished lyrics and melody!
One thing that sticks in my head about the Nakskov workshops, was the grace in which Gitte approaches teaching. The way she interacts with her students; patient but steadfast. Even in private conversations, after the students had left the room. She allowed me and Joe to teach her class, but she taught me a thing or two about understanding and meeting people where they are at. Even if those people are a little rambunctious!
On our last night in Lolland, Gitte and Thomas had us all over for dinner! We got to hang out with their many furry family members and indulge in beer, rosé, red wine, and a delicious meal. By the time it was over, we felt like we were leaving family. Here are a few highlight videos:
These lambs only answer to Thomas!
Everyone's gotta start somewhere!
Now do you believe me when I say that Thomas is good at everything?
Are You Jealous Yet?
This picture was taken not long after Thomas explained the difference between "sauce" and "SAUCE". Danish people like their "SAUCE" so thick it would "stick to the ceiling" if you tossed it in a pan!
I mean… Have you ever seen such happy people??
For round 2 of Copenhagen, we stayed in the tiniest Airbnb close to Copenhagen Airport. The four of us shared one room with a bunk bed and two twin mattresses! It didn't matter much to us since we were determined to spend most of our time being shameless tourists in Copenhagen. Joe & Tim met yet another incredibly generous woman named Michelle at the bar a few blocks down who offered to give us a tour of Freetown Christiania after she got off work the next day!
First order of business: FOOD.
(we went ham)
I will never get over the way it feels to be rushing from place to place, trying not to trip over cobblestone, only to look up for a split second and be stopped in my tracks by this architecture.
Meet Michelle! She was kind enough to give us a tour of Christania AKA Freetown. This is an area in Denmark that sort of operates as a little country within a country. It has it's own doctors office, post office, etc. It started as a squatted military area in the 70's and is openly 4/20 friendly! Because of this, Christania's relationship with the Danish government is quite strained - even though Christania is known to evict anyone using hard drugs on it's own accord. The Danish government still considers marijuana to be a "hard drug".
Because of this strain between Christania and the Danish government, there are no pictures allowed on pusher street, where weed is sold openly. Hence my lack of photos here ;)
Christania is known for being 4/20 friendly - and that's a big reason for it's tourist attraction - but it is so much more than that. It's really a functioning community with it's own kind of charm. They are expert recyclers. Michelle took us into a shop that does nothing but sell used materials: tea sets, silverware, couches, lamps… You can also find the inventor of Alis. He has a shop set up there, where the skateboarding brand got it's start. Right next to a little indoor skate park!
Lucky for us, Tim is good friends with Pelle - the manager of The Winery Hotel in Sweden! So we figured we would finish the last few days of our trip there.
The day we arrived in Sweden also happened to be the same day as the grape harvest at the hotel! The hotel staff delivered a bunch to each room. Later that night, they had a party in the lobby. Pelle even gave us a tour and explanation of the fermentation process.
Old Town Stockholm
Day 2 in Stockholm started with a trip to Old Town! We did all of the stereotypical tourist stuff - saw the Royal Palace, took a boat ride tour, and went to the Stockholm Museum of Photography.
The best part of Stockholm was figuring out how to get from place to place, hopping on the train and feeling like a balloon without a string. Is it just me or does a 72 hour bus pass feel like a magic ticket to anywhere?
We started our last day in Stockholm with the Winery Hotel breakfast. We couldn't resist doing this every day since the food is SO GOOD that it's hard to believe it comes free with your room! Every day, they have a huge spread of meats and cheeses as well as more western breakfast stuff like eggs and bacon. Since my only caveat to traveling is leaving my loose leaf teas at home, I was thrilled to find a whole spread complete with 6 different kinds of loose leaf tea.
One of the many reasons everyone should take Tim on their next big trip, is because he has amazing taste in food. In Maribo, he would always prepare an amazing breakfast. In Sweden, he knew the perfect croissant to brie and jam ratio… I ate a lot of that. Tim is also the master of nonchalantly making little sandwiches and smuggling them out of the breakfast room, each wrapped in it's own little napkin.
An Unexpected Friendship at a Swedish Flea Market
On our last full day in Stockholm, I had one goal in mind. All I wanted was to buy one article of clothing that could not be bought anywhere but Sweden - vain as it may sound. It was lucky that we stumbled upon a flea market laid out in the middle of this metropolis selling everything from 2nd generation iPhones & vintage cameras to used clothes and VHS tapes. The sweater I'm wearing in the first picture caught my eye so I bought it and put it on right away!
The second thing that caught my eye was a stack of beautiful hand made rugs. They looked like something you'd find at Anthropologie, but much more unique. The man selling them was quick to tell me how you can tell the difference between handmade and machine made. Just one of these would cost around 200USD and take hours upon hours to create. Each one is made of used materials like t shirts and scarves. You'd never guess that something so beautiful could come out of old clothes. Somehow we got into a conversation about how he used to live in Canada and enjoys practicing his English, how the US and the world is so crazy right now, then back around to the rugs. I told him I'd love to learn how to make one someday and he seemed really excited about that idea. He told me he wanted me to have this rug, and he didn't want me to pay for it. He said he liked the thought of me bringing something distinctly Swedish back to the US. Yet another example of how generous the Nordic people are. I was blown away by this gift!
Goodbye is Always the Hardest Part!
While Tim was lucky enough to continue his journey to Amsterdam, it was time for mom and I to go home! We could barley fit all our keepsakes in the bags, but I was determined. Even though it meant holding that huge Swedish rug folded up under my arm the entire three flights!
Thinking back on this trip there are moments that I'm moved to tears by the kindness of the people we met. Yes - there are still kind people out there! They may not be famous and they may not be the thing you hear about on the news these days, but their love is loud. Despite the forces that try to keep us apart, we are all still citizens of the world. This trip proved - once again - that music can bring us together. What could be a better example? Without music, we would have never met Thomas & Gitte and all of their big-hearted friends. Because of music, I had the chance to see everything from a different perspective. There are no words to say besides THANK YOU <3.